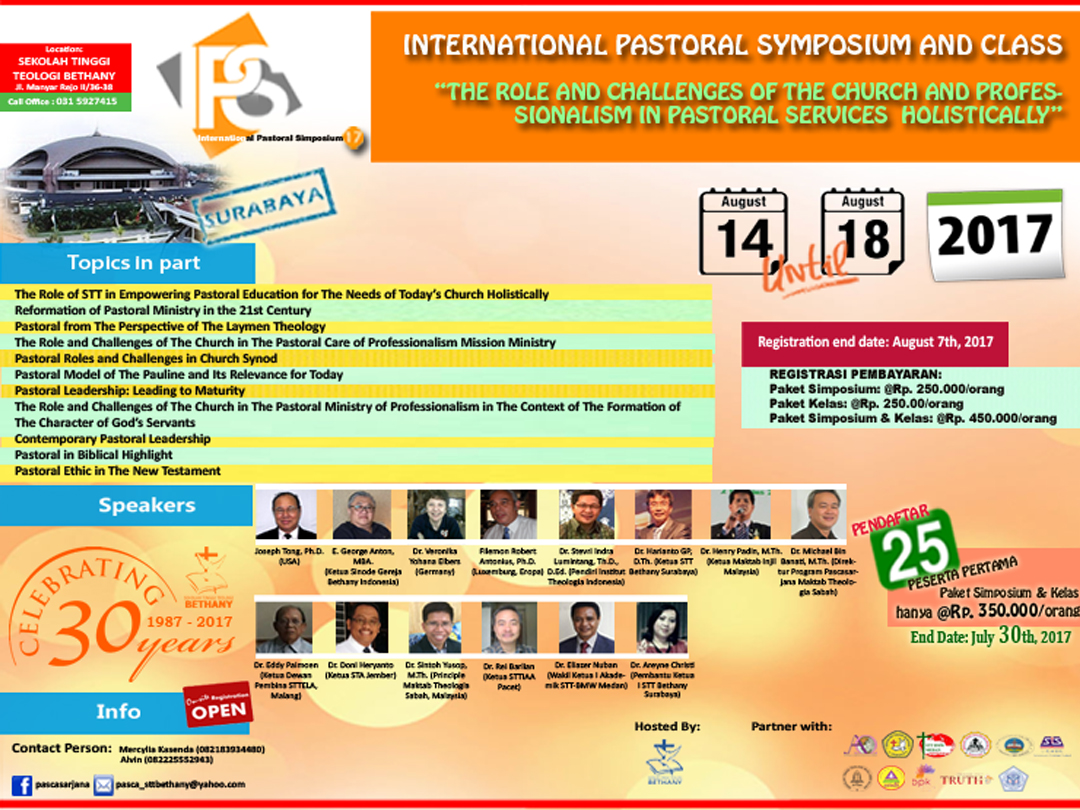 Simposium adalah kegiatan tahunan STT Bethany sejak tahun 2014.  Bertepatan dengan ulang tahun STT Bethany yang ke-30, Simposium dikemas berbeda dari tahun sebelumnya.
STT Bethany mengadakan "International Pastoral Symposium and Class 2017"  dengan tema "Role and Challenges the Church in the Profesionalism of Pastoral Ministry in Holistic" yang akan diselenggarakan pada tanggal 14-18 Agustus 2017 di manyar.
Pembicara berasal dari lima negara. Mereka akan  memperlengkapi setiap hamba Tuhan maupun Jemaat Tuhan agar lebih mengenal 'pelayanan' dalam bidang pastoral.
Untuk 25 pendaftar pertama paket simposium dan kelas
Hanya membayar Rp. 350.000/org, paling lambat tanggal 30 Juli 2017
Sedangkan pembayaran umum registrasi pembayaran terdiri atas:
(a) Paket simposium sebesar Rp. 250.000/org,
(b) Paket Kelas sebesar Rp. 250.000/org,
(c) Paket Simposium dan kelas sebesar Rp. 450.000,
Paling lambat tanggal 7 Agustus 2017.
Info Lebih Lanjut Hubungi: (031) 5927415
Contact Person: Mercylia  (082183934480), Alvin (082225552943)