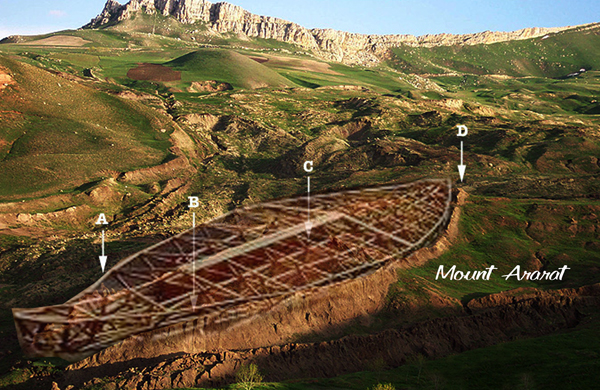 PENGETAHUAN, BETHANY.OR.ID – Sedikitnya sepuluh orang yang terdiri dari para petualang asal Amerika dan Turki, pada  Juli 2004 mendaki salah satu dari dua puncak gunung Ararat yang bersalju  abadi di Turki Timur dan berbatasan dengan negara Armenia dan Iran. Mereka adalah salah satu kelompok yang melakukan perburuan fosil Bahtera Nuh, yang dianggap misterius, tetapi diprediksi memang nyata  "berlabuh" di salah satu puncak Ararat.
Penanggung jawab ekspedisi itu, Daniel P. McGivern, menyatakan: " Kami tidak akan menggali benda misterius itu, lebih-lebih tidak akan mengambil artefak apapun, atau membuat sebuah perahu palsu di sana. Kami akan memperlihatkan kepada anda tentang keadaan dan kondisi yang sebenarnya di sana."  Menurut pimpinan The Trinity Corporation of Honolulu, Hawaii itu, Timnya tidak begitu langsung dapat mendaki gunung curam bersalju tersebut. Mereka harus melakukan pendekatan pada masyarakat penghuni dataran tinggi Ararat, yang turun- temurun mempercayai bahtera Nuh memang terbenam  di puncak gunung itu. Mereka tidak membiarkan orang mendekatinya karena dianggap keramat. Juga tak mau bercerita tentang misteri yang berkaitan dengan apa yang ada di gunung-gunung itu. Nama Ararat diperkirakan berasal dari keberadaan kerajaan kuno di situ yang bernama "Uratu". Kedua puncaknya dalam beberapa abad diguncang gempa bumi, tanah longsor dan pemunculan bukit-bukit baru. Menurut McGivern, kalau timnya berhasil menemukan bangunan bahtera raksasa itu, berarti terbuktilah dugaan sebelumnya.
"Bagi mereka yang memahami kitab Injil, bahwa bila keberadaan Bahtera Nabi Nuh benar-benar terbukti, maka akan menjadi simbol legendaris sepanjang sejarah manusia, dan menjadi rekor perkembangan evolusi manusia." katanya.   Namun sayang, apa hasil dari ekspedisi 2004 itu hingga kini belum diumumkan secara meluas.
Jauh hari, misteri bahtera Nuh (dalam bahasa Inggeris: "The Great Noah Ark") yang dipergunakan pada abad ke-3 SM itu sudah menjadi perburuan. Baik oleh para ilmuwan, arkeolog sampaipun para petualang. Baik yang sengaja maupun yang kebetulan "menyaksikannya". Baik untuk kepentingan agama atau sains atau sensasi ataupun duit. Hal demikian tak mengherankan, karena kisah Nuh dan banjir besar itu sudah menjadi cerita-rakyat dan kepercayaan berbagai suku bangsa di dunia. Dari suku-suku bangsa Timur Tengah dan Asia Kecil yang diperkirakan menjadi kawasan luapan banjir itu, akan tetapi juga menjadi legenda beberapa suku bangsa Indian kuno Amerika sampaipun di kalangan masyarakat kepulauan Hawaii.
Fosil bahtera itu tiba-tiba saja terlihat pada awal abad 21, ketika sebagian lapisan es gunung itu meleleh akibat gelombang panas dahsyat yang melanda seluruh Eropa pada musim panas 2003-2004. Akibatnya, misteri bahtera itu muncul kembali menjadi bahan pembicaraan dan perburuan.
Perjalanan Perburuannya.
Sejak akhir abad ke-19, manusia modern mulai memburu misteri Bahtera Nuh. Meskipun hasil-hasil mereka belum diperkuat oleh pengakuan secara internasional.
Kisah perburuan manusia modern itu diawali pada 1829, ketika Dr. Friedrich Parrot, Khachatur Abovian, Alexei Sdrovenko, Matvei Chalpanof, Ovannes Aivassian dan Murat Pogossian  mendaki puncak Ararat. Menurut laporannya, "kemungkinan" menemukan bahtera itu di salah satu lereng puncaknya.
Setahun usai letusan hebat gunung berapi  Ararat pada 2 Mei 1883 yang memporak-porandakan perkampungan di lerengnya, kerajaan (saat itu) Turki mengirim tim ekspedisi guna melihat dampak gempa. Kapten Gayscoyne, duta Inggeris di Istambul, mengikuti ekspedisi tersebut. Saat itulah dilaporkan mereka melihat "Bahtera Nuh". Katanya,  mereka dapat memasuki bahtera itu, namun tidak dapat mengukur dengan tepat dan mempunyai data lengkap, disebabkan sebagian bahtera itu diselimuti es. Hanya 20 hingga 30 kaki saja bagian bahtera itu yang menjulur keluar.
Namun, tujuh tahun sebelumnya, yakni tahun 1876, penjelajah Inggeris bernama James Bryce dapat mencapai puncak gunung dan melaporkan menemukan potongan fosil kayu selebar 1,5 meter pada ketinggian 3900 meter dpl.
Kerajaan (saat itu) Turki pada 1883 mengirim tim survai geologi di puncak Ararat, dan menemukan potongan fosil kayu berbentuk bahtera yang terkubur 6-9 meter di bawah tumpukan salju abadi bekas longsoran gunung es.
Tahun 1887, dalam perburuan terhadap situ tersebut, Pangeran Nouri dari Baghdad menyatakan menemukan fosil bahtera Nuh di puncak Ararat. Tetapi tak ada catatan pembuktiannya.
Tahun 1916, penerbang angkatan udara kekaisaran Russia, Valdimir Roskovitsky dan rekannya ketika terbang di atas Ararat, melihat obyek yang menyerupai bahtera yang terdampar di tepian danau pegunungan Ararat. Dari laporan itulah, Kaisar Russia Tsar Nicholas II pada 1917 mengirim 150 orang pakar di berbagai bidang dan tentara untuk mendaki Ararat guna mencari bahtera tersebut. Perjalanan mereka memerlukan waktu sebulan guna mencapai lokasinya. Mereka berhasil menemukan "bahtera" itu, memotret sebanyak-banyaknya, dan mencoba mengukur panjangnya kira-kira 500 kaki, lebar 83 kaki dan tinggi 50 kaki. Sebagian tenggelam dalam salju. Hasil ekspedisi itu dibawa ke Moskwa dan akan diserahkan pada Tsar, namun saat itu timbul revolusi kaum komunis  Bolshevik pimpinan V.I. Lenin dan J. Stalin. Jatuhlah berkas laporan tersebut ke tangan jenderal Bolshevik, Leon Trotsky, yang juga lawan politik Lenin. Trotsky kelak melarikan diri ke Amerika Latin, kemudian dibunuh orang-orang suruhan Stalin. Dan berkas itu entah ke mana hilangnya.
Antara 1938-1948, penelitian, pencarian dan penampakan dilaporkan, namun kesemuanya  juga belum diakui secara meluas.
Tahun 1949, seorang pilot Uni Sovyet (Russia) bernama Lotskovitsky melakukan pemotretan udara di lereng barat Ararat. Terlihatlah obyek yang diperkirakan sebagai fosil bahtera Nuh. Nampak ada bintik gelap yang sama-samar di bawah lapisan es tebal, sehingga para pakar menyangsikannya sebagai Bahtera Nuh.
Sekitar 1954 dan 1958, John Libi (AS) dan Kolonel Sehab Atalay (Turki) menemukan kayu yang diduga sisa-sisa bahtera itu dari Ararat.
Tahun 1957, beberapa pilot Angkatan Udara Turki melakukan penyelidikan pada puncak Ararat. Dalam penerbangan di atas provinsi Agri, mereka melihat suatu obyek seperti sebuah bahtera. Akan tetapi, pemerintah Turki tidak melanjutkan penyelidikannya, dikarenakan sedang hangat-hangatnya terjadi "Perang Dingin" antara blok  Barat dengan blokTimur. Penerbangan di atas Ararat yang masuk kawasan-kawasan blok Eropa Timur dan lawannya,  blok Sekutu, bisa menimbulkan pecahnya peperangan. Uni Sovyet yang saat itu sebagai penguasa atas negara-negara Eropa Timur (termasuk Armenia), melarang penerbangan setiap negara melintas di atas Ararat. Larangan tersebut baru dicabut pada 1982, ketika Uni Sovyet runtuh dan menjadi negara demokratis
Dicabutnya larangan itu, mendorong para tim ekspedisi untuk mencoba lagi menyingkap misteri bahtera tersebut.
Tahun 1960, seorang kapten Angkatan Bersenjata Turki yang bertugas melakukan pemotretan udara untuk kepentingan militer, terkejut melihat obyek persegi empat mirip Bahtera Nuh. Lokasinya kira-kira 20 mil arah selatan dari puncak Ararat. Dari perhitungan skala, panjangnya 135 meter dan lebar 22 meter. Laporannya menggemparkan, sehingga pada 1962 didatangkan tim sains dari Amerika Serikat yang bersama tim militer Turki mendaki dan menemukan puing kayu  pada ketinggian 4200 meter dpl.
Seorang pengusaha minyak bumi pada 1960-an dalam urusan bisnisnya menumpang helicopter ketika melintas di atas Ararat, terkejut melihat sebuah "kotak besar" yang panjang, menyerupai bahtera. Dia menyuruh pilotnya mendekati obyek tersebut untuk melakukan pemotretan. Kelak dia menunjukkan hasil pemotretannya kepada rekan-rekannya di Timur Tengah dan Amerika Serikat. Sejak itu, dia berusaha untuk mencari dana membeayai ekspedisi, akan tetapi tak ada yang bersedia membantunya. Dia kecewa upayanya gagal, dan berpindah tempat membuka tambang minyak di British Guyana.  Akan tetapi, pada 27 Desember 1962, pengusaha itu ditemukan tewas dibunuh dan mayatnya terapung di kolam renang hotel. Kepolisian mendapat laporan dari kawan karibnya, bahwa semua foto "Bahtera Nuh" yang tersimpan di almari pengusaha itu ternyata 10 hari sebelumnya telah dijarah pencuri. Kawan-kawan pengusaha itu menyatakan, mereka telah melihat foto-foto tersebut yang berukuran 8 X 10 inci. Mereka juga memperkirakan, bahwa sipengusaha itu dibunuh karena foto-foto tersebut. (bersambung……….)