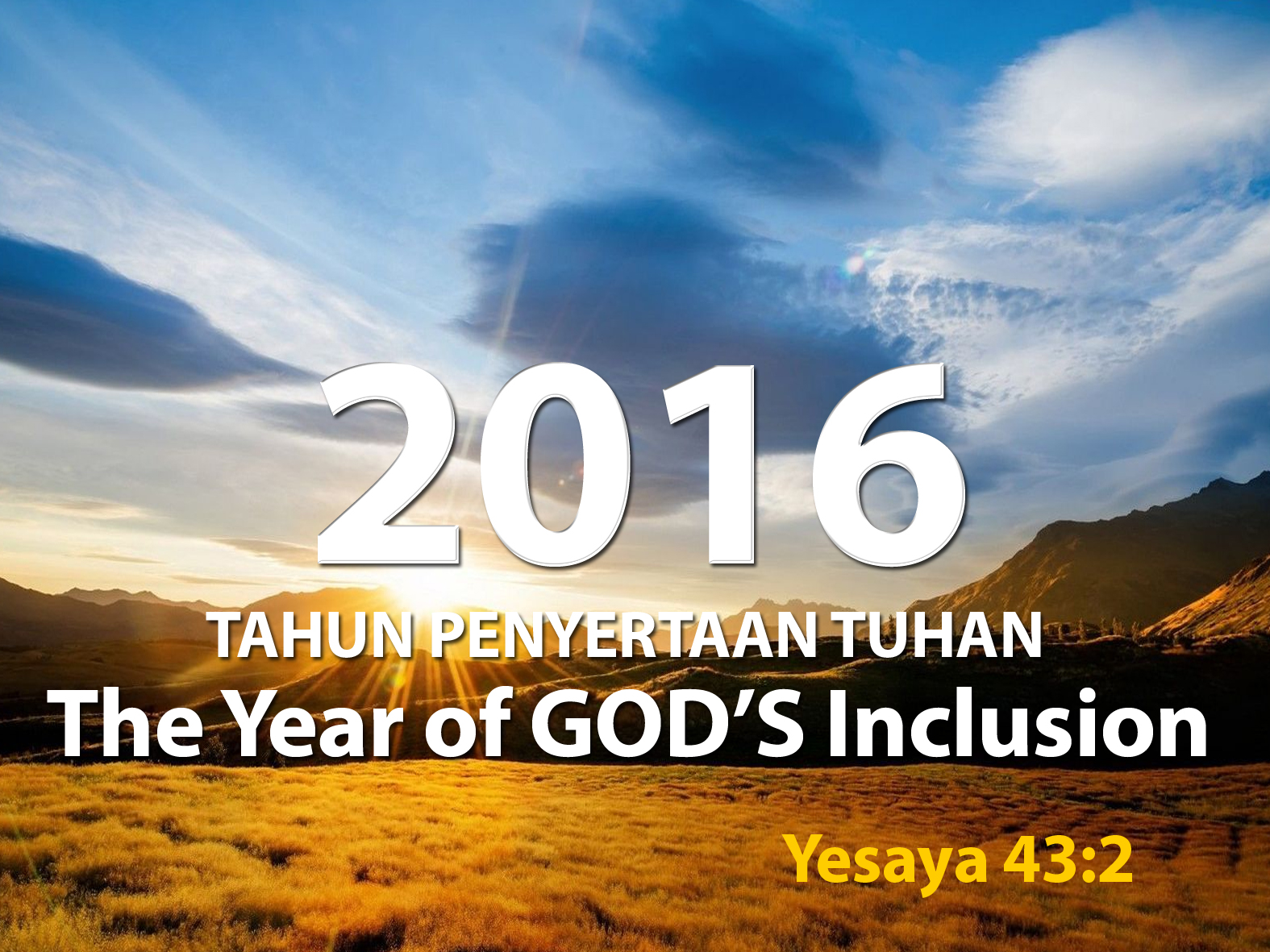 TAHUN PENYERTAAN TUHAN
(The Year of GOD'S Inclusion)
Yesaya 43:2 "Apabila engkau menyeberang melalui air, Aku akan menyertai engkau, atau melalui sungai-sungai, engkau tidak akan dihanyutkan; apabila engkau berjalan melalui api, engkau tidak akan dihanguskan, dan nyala api tidak akan membakar engkau".
Puji kebesaran Tuhan, ketika kita mengikrarkan diri, keluarga dan Gereja kita untuk Hidup untuk Tuhan (Living for God), Allah yang peduli dan mengerti, menuntun, mencukupkan dan memampukan kita Gereja-Nya untuk melewati tahun 2015 dengan baik dan siap menyongsong datangnya tahun 2016.
Dunia dengan perkembangan dan segala gejolak-gejolaknya sedang merangkai hari-hari yang semakin sulit, semakin bahaya dan semakin jahat.
Hari-hari semakin sulit karena krisis ekonomi global tak kunjung berakhir, perkembangannya tidak baik, tak terkecuali bagi Negara dimana kita sebagai umat Tuhan kita ditempatkanNya. Pertumbuhan ekonomi yang lambat dan sulit, daya beli yang hilang, ketidakpastian dan kegaduhan-kegaduhan adalah bukti hidup yang jauh dari ideal, sangat merisaukan.
Hari-hari semakin bahaya ditandai dengan musibah, bencana yang begitu banyak terjadi setiap hari diseantero dunia, sangat mencemaskan.
Hari-hari semakin jahat, ketika kriminalitas yang terus meningkat, ragam kejahatan yang begitu mengerikan, bahkan mulai mengganggu keamanan dan keselamatan anak-anak kita. Belum lagi kegiatan-kegiatan ekstrim dan serangan-serangan dari kelompok jahat dan teroris melanda dunia terlebih di penghunjung tahun 2015, sangat mengkuatirkan.
Kalau kita umat Tuhan boleh ada sebagaimana kita ada saaat ini, puji syukur dan terima kasih harus kita naikan untuk Tuhan Yesus yang membela kita.
Ketika kita segera menapaki Tahun Baru 2016, Firman Tuhan Yesaya 43:2 datang pada kita, saya tangkap sebagai isyarat berupa penegasan Tuhan atas janji-Nya bagi kita.
Successful BETHANY Families
Nats Firman Tuhan sedang berbicara tentang 3 (tiga) kondisi hidup yang akan kita hadapi, yaitu: AIR berbicara tentang persoalan-persoalan kecil, SUNGAI berbicara tentang masalah-masalah besar, sedangkan API berbicara tentang tekanan, fitnah, aniaya, desakan dan hal-hal lain yang akan sangat mengganggu yang harus kita hadapi dalam kehidupan kita.
Tapi Firman Tuhan berjanji kepada kita, ketika kita menyeberang melalui Air, ketika kita melalui Sungai-sungai, bahkan ketika kita berjalan melalui Api, kita ada dalam pegangan Tuhan yang kuat dan aman. Saya tangkap ini sebagai Visi Tuhan untuk Sinode kita di tahun 2016 yaitu TAHUN PENYERTAAN TUHAN, The Year of GOD'S Inclusion.
Dengan berpegang pada Firman Tuhan, dan senantiasa menjadi pelaku Firman Tuhan, maka janji Tuhan akan menjadi jaminan dan nyata dalam hidup kita.
Selamat menempuh tahun 2016
Surabaya, 20 November 2015
MAJELIS PEKERJA SINODE  GEREJA BETHANY INDONESIA
Pdt. E. George Anton, MBA
Ketua Umum